[gifted] | day trip to bristol w/ national express
Updated: Jun 3, 2020
Amara Amaryah | travel + books + poetry, always poetry. a platform for story-telling, visuals, positive self-talk and empowerment. |day trip to bristol with national express.
hello loves.
how is your december going? it's almost the season to snuggle down, stay warm and stay inside. almost. before hibernation begins, i want to talk about a very welcomed day trip that i recently enjoyed in the UK. we finally touched down in the coolest city of the south – bristol. admittedly bristol has been on my list for years and december was a cute time to check it out. this trip was made possible by national express who were lovely enough to gift us a free coach ride.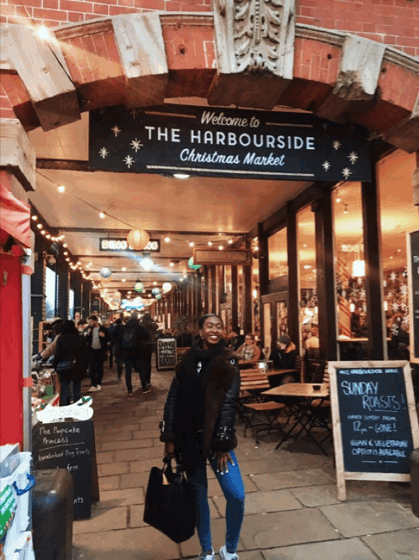 travelling with national express


the national express chronicles:
what do you think about when you think of coach travel? i'm currently thinking about ways to save (money and my effect on the environment as a traveller) so coach travel is something I'm very open to – especially on those UK travel day trips!
travelling with national express made the day trip to bristol smooth and simple. the coach trip took no more than two hours each way which is a win. it was also spacious enough, had wifi on board, power sockets which is obv a big win for us iPhone users (note the sockets are for plugs not USB), free VUER entertainment onboard and toilets. on top of that, travelling by coach is the most environmentally friendly form of public transport – generating up to five times less Co2 than the average car journey.
other things that didn't come into use on this particular trip but may be useful to note is that there are wheelchair lifts available on pre-booked trips, air conditioning and a generous luggage allowance of two medium sized suitcases, each no more than 20kg. Coach travel is generally a more affordable choice with national express offering competitive pricing of £5 or less (plus booking fee). we love to see it.


bristol bound


we left birmingham digbeth coach station at 11am and arrived at bristol coach station at 1pm. we wandered out of the coach station very hungry but typically very easily distracted. we don't get more than 6 breaths of bristolian air until we forget that we haven't got a plan and apparently haven't got the patience to make one. we (actually) move. i say we, i forget to mention that i brought along my trusty travel buddy miss hawwa who you'll recognise from my italian blog posts.
bristol coach station | bristol's history is so unknown to me. little prompts like this bus boycott remind me of the pockets of black british history.
hawwa.
we had 7 hours to roam before the coach back. we started by wandering the streets and on the way found a few vintage shops to shop in. we wandered again, this time through the Christmas markets and then grabbed lunch. we used the opportunity to locate Arnolfini arts centre and made our way there. on the way we found more boutique Christmas markets by the harbourside.
bristol vintage/ beyond retro.
first piece i saw as i entered the exhibition, easily a fave.
we eventually found our way to the 'still I rise' exhibition at the Arnolfini centre. i left with a whole lot of inspiration and thought about local and international takes of feminism. our final destination was the Clifton Suspension bridge which we took a water taxi to (only £2.50 each) and then ended up at the bridge (a hike and two rest breaks later). for anyone wandering, yes it was worth it, even in the cold and dark, the lights made it charming. cute date night idea for the strong legged. we caught an uber back down the hill and ate our final dinner before throwing ourself into an uber to not miss the coach. because bristol was that good.
Clifton suspension bridge | gorgeous as i said.
a break from the 'hike' to compare and dance to spotify 2019 playlists
a view.
winter day tripper for the win?
my last day trip was to belfast last year and thankfully i knew how to make the most of limited time in a city. the trick is to allow for the wandering, it is as much a part of the trip as the destination. it is also key to practice slow tourism rather than rushing through and not appreciating the city.
ultimately i will be back to bristol, i've decided. only because i'd like to see how the city behaves in the summer with more daylight hours, more opportunity to eat outside on somebody's fancy balcony, more buzz. i also need more time to come back and and do some photography and see banksy's work dotted around. but bristol does winter well and i've got some cute early christmas memories and a new city off my bucket list.
thank you for reading what I write.
Yah bless.
Amara Amaryah.
#daytrip #visitengland #travel #ad #britishtravel #travelguide #bristol #gifted